About Us
Quality Customer Service, Compassionate Care
It's not all about pipes… Our THC & CBD dispensary was established to provide quality products at an affordable price! We offer free and honest advice on the available cannabis treatments! Our staff greets you with compassion and friendliness whether you're there for accessories or advice. Our mission is to provide you the truths on an alternative, natural way of healing without using industrialized pharmaceuticals.
Cannabis and Healing
We offer advice on the various online resources that are out there for you to learn and research for yourself the broad array of cannabis products & services that are geared to address illnesses and injuries.
Our Promise to You
In order to provide our guests with the highest level of care, our goal is to create a comfortable experience when you come in! We can provide Legal cannabis products without the need of a medical marijuana card or prescription. We carry all the legal cannabis products for all your personal needs and offer delivery and shipping.
Cannabis Treatments
Cancer
The active component of the marijuana plant, cannabinoids (CBD), have shown to inhibit tumor growth and kill cancer cells in lab testings. We work with a number of patients who use cannabis to treat their cancer and suppress it's side effects.
Seizures
THC & CBD contains antispasmodic qualities which relax muscles and has shown to be an effective treatment for seizures. Cannabis oils that are rich in cannabidol (CBD), are the preferred method for treatment.
Chronic Pain
Patients who suffer from chronic pain caused by diabetes, cancer, MS, HIV, and other diseases have been turning to cannabis as a way to treat their pain without the use of addictive pharmaceutical medications.
MEET THE OWNERS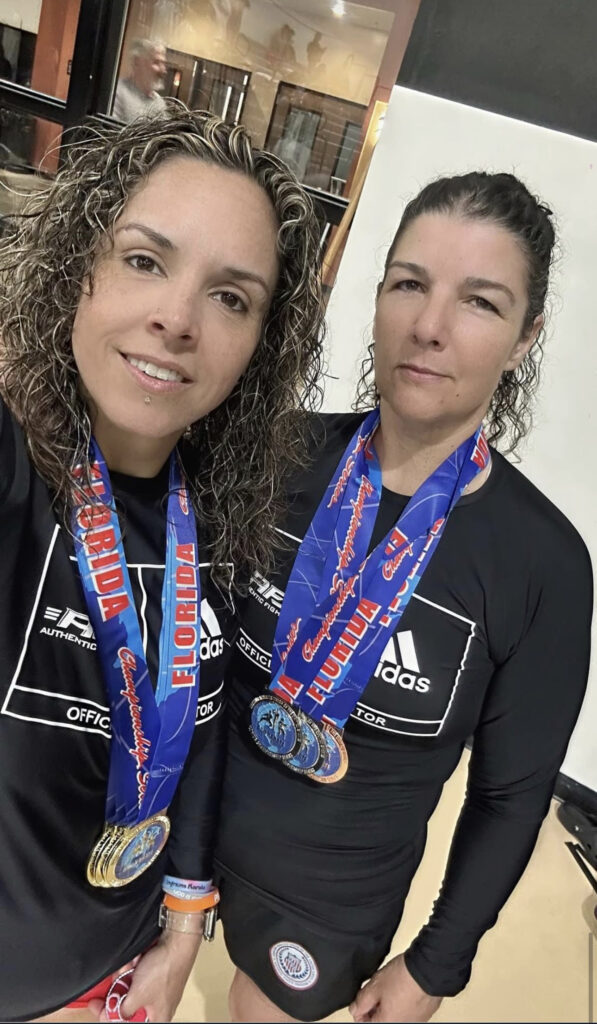 A Woman Owned Set of Canna Companies!
Aileen Diaz
Co-Owner and Co-Founder of The Smoke Bodega Hemp Dispensary & Indica Cafe Kava Kratom Tea Room! I am here to serve you and get you the help you need and just feel good! Spent the last 20 years working in various roles in technology! Now I am done working in Corporate America where the bottom line is more important than the lives affected by big company decisions. Right now I just want to help as many people as I can and educate them!
Lidiana Diaz
Co-Owner and Co-Founder of the Smoke Bodega Hemp Dispensary & Indica Cafe Kava Kratom Tea Room!! I have a background in nursing! Spent 12 years in the nursing career, I have a passion for helping those that can't help themselves or have no voice. I enjoy helping the local rescues and foster and nurse small animals in my spare time!
Aileen & Lidiana are a married couple of 15 years! Have dedicated their lives to help their community find relief with hemp derived cannabis products since 2016. Their focus now is helping the sober community find relief with the various herbal supplements offered. Karate enthusiasts and love to teach survivor skills, hemp cultivation and animal care!
Kratom and Kava and CBD and THC are the main supplements offered!
Kratom is known to relieve pain and depending on the stain, can help with mental focus as well! They have been instrumental in helping their local community replace their opiates for kratom… their adderall for kratom… their alcohol for kratom.
Kava is another offering that has helped many leave their pharmaceutical addictions. Anti-anxiety and anti-inflammatory meds and alcohol a thing of the past with kava.
CBD and THC products have been a great help to their patrons that suffer from MS, Lupus, Fibro myalgia, chronic pain.
We cannot make medical claims, but what we can provide are testimonies of 7 years of service here.
FDA Disclaimer
"The statements made regarding these products have not been evaluated by the Food and Drug Administration. The efficacy of these products has not been confirmed by FDA-approved research. These products are not intended to diagnose, treat, cure or prevent any disease. All information presented here is not meant as a substitute for or alternative to information from health care practitioners. Please consult your health care professional about potential interactions or other possible complications before using any product. The Federal Food, Drug, and Cosmetic Act require this notice."